This week, the United Kingdom lost one of its most longstanding, leading advocates for veterans of the 1991 Gulf War afflicted by Gulf War Illness, Lord Alf Morris of Manchester.
Along with RAC Chair Jim Binns, then-Scientific Director of the RAC Dr. Lea Steele, and a small handful of others, I had the pleasure of getting to know Lord Morris and his lovely wife Irene over an intimate dinner in Washington, DC a few years ago.
I was taken by his account of his father's exposure to mustard gas during World War I, (an issue with which I have some personal familiarity), and his subsequent lifelong illness until his death at a relatively young age.
And I was captivated by his efforts in helping to try to get the UK's Ministry of Defense (MoD) to recognize GWI as real, and to help the countless thousands of Britons, like their American and other Coalition counterparts, suffering from GWI.
I was also deeply impressed by the immensity of his humanity, compassion, and tenacity in continuing to hammer away at these issues about which he deeply cared, despite being at least 80 already at the time.
Someone who knew him better than I called Lord Morris, "a truly great man" -- to which I readily concur -- and continued, "He really can be credited for keeping the Gulf War Syndrome issue alive for UK veterans over the past 15-20 years. He was very passionate about it, and told us of how his father had been gassed as a soldier in World War I, an injury that eventually killed him but was never recognized as war-related by the MOD. He sponsored many hearings and meetings on the subject, and dogged MOD with official inquiries, forcing them to at least put a public spin on taking this problem seriously (even if they never really did)."
The UK, and the worldwide community of Gulf War veterans and others suffering from Gulf War Illness has lost a true and caring advocate this week. May he rest in peace, and may his family and all those who loved him find comfort and peace.
****************************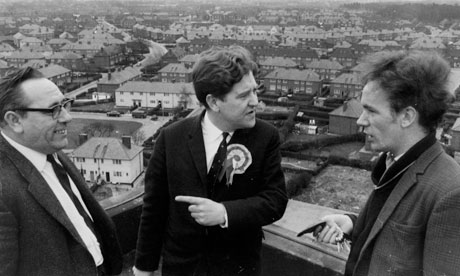 Alf Morris, a lifelong campaigner for the rights of the disabled, has died, aged 84.
His main legacy was to get legislation onto the statute book in 1970 that enshrined disabled rights in law for the first time.
Elected Labour MP for Manchester Wythenshawe in 1964, he was appointed Minister for the Disabled when Labour returned to power in 1974, and continued acting as the party's spokesman on the disable through the 1980s. He was made a life peer after retiring from the Commons in 1997.
He was also the driving force behind the independent inquiry into 'Gulf War Syndrome', an illness afflicting veterans of the 1990 Gulf War. The committee's report, published in 2004 but not accepted by the government, concluded that 6,000 veterans suffered from illnesses originating from the war, and recommended a special fund to support them. The report also praised Lord Morris for having "done more than anyone to promote the welfare of the Gulf War veterans."
As President of the Haemophilia Society, he also battled to better conditions for haemophiliacs.
Alice Maynard, chairwoman of disability charity Scope, said: "It was with great sadness that I learned of the death of the architect of the Chronically Sick and Disabled Persons Act 1970 that changed the lives and opportunities of so many disabled people. Alf's fireside tales of his political manoeuvring to get the Act through are legendary amongst disabled activists."
The Labour MP Anne Begg tweeted yesterday: "When I first got mobility allowance which transformed my life I didn't know that the man I had to thank was Alf Morris."
Morris was proud in 2005 to introduce to the Lords the former Labour education secretary, his niece Estelle Morris, as Lady Morris of Yardley.
He is survived by his wife, Irene, whom he married in 1950, and their two sons and two daughters.
*SOURCE:
http://www.independent.co.uk/
news/uk/politics/labour-peer-
and-disabled-rights-
campaigner-lord-morris-of-
manchester-dies-8046008.html#