Uncle Sam is glad to wave the flag when sending soldiers to war, but patriotism means doing right by our veterans, too
Seema Jilani, guardian.co.uk, Friday 8 October 2010 17.00 BST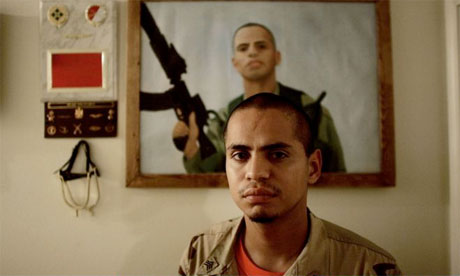 Jesus Bocanegra, of McAllen, Texas, in front a painting of himself done while he was serving in Iraq in 2006. Bocanegra has been diagnosed with Post-Traumatic Stress Disorder, or PTSD, a result of his service in Iraq in 2003-04; an attempt to attend college was thwarted by his nervousness with crowds, a common symptom of PTSD. Photograph: Chris Hondros/Getty Images
-----------------------
Q: "What's the difference between a nurse at a veterans' hospital and a gun?"

A: "A gun draws blood, you can fire a gun, and a gun only kills once per try."
While it's a harsh joke circulated among those who work at veterans' hospitals, the sentiment underscored is that the US government does not prioritise veterans' health enough to pay nurses competitive salaries. The Department of Veterans Affairs has continually slinked into the shadows and reneged on its responsibility to take care of those who have valiantly served our nation.
Returning veterans have an abysmal state of affairs to come back to, a crisis even. A new study estimates that the price tag for healthcare costs of veterans from Iraq and Afghanistan could be as much as $1.3tn. Approximately 600,000 of the 2.1 million service members have already sought VA healthcare, a higher proportion than from prior wars.
Suicide rates of returning veterans are four times that of the civilian population. Five years ago, 87 service members committed suicide on active duty. Last year, the count was 162. At Fort Hood, there have been 14 confirmed suicides and six deaths are pending investigation. There has been a 40% increase since 2006 in the suicide rate of Texan veterans younger than 35. Last week, at Fort Hood, four men – all under the age of 40 – took their own lives. All were decorated veterans and two were fathers of young children. Upon retrospective chart review, many patients had expressed worrisome signs of impending harm, but little action was taken.
To add to its dire ethical record, the VA did not recognise Gulf war illness (GWI) as an entity for several years, even after medical evidence published in notable journals pointed to its existence, and several thousand veterans voiced symptoms that fit the diagnosis. By "neither confirming nor denying" its existence, the VA ensured that suffering veterans were unable to receive compensation for debilitating illnesses. Last year, the VA cancelled a congressionally mandated contract for GWI research at the University of Texas Southwestern, which may have been because research was implicating toxic exposures to depleted uranium (DU) and sarin nerve gas. If established by the study, this would allow more veterans to claim "service-related" illnesses, thereby obliging the VA to foot the bill for treatment. Last year, an expose uncovered the fact that doctors were being pressured by the VA to refrain from diagnosing PTSD, and told to diagnose patients with "anxiety, not otherwise specified" instead. That way, veterans would receive substantially lower disability benefits.
However, President Obama and Eric Shinseki are doing far better than their predecessors (think Walter Reed). It wasn't until the Obama administration that Gulf war illness was officially acknowledged, as were illnesses linked with Agent Orange, thereby opening benefits for affected veterans. Still, our government can glory in "our brave troops" when marching off to war, but cannot dig into its pockets to care for fragile veterans upon their return. Patriotism is more than rallying around a flag, tying yellow ribbons and singing twisted Toby Keith lyrics.
And the sorry business darkens further. What unsavoury things occur when the Department of Veterans Affairs gets into bed with self-serving insurance companies? Wretched war-profiteering of the most sinister kind.
Prudential Insurance provides life insurance to 6 million US military personnel and families. It was recently revealed that the VA failed to inform soldiers of a secret agreement with Prudential enabling the firm to withhold lump-sum payments of life insurance benefits to families of fallen service members. Since 1999, Prudential has used money set aside for soldiers' life insurance as investment income. Over the years, Prudential sent families "checkbooks" instead of money. By delaying payment, Prudential kept the money in its corporate "alliance accounts", where it could potentially earn eight times as much as it currently pays in interest to beneficiaries.
Furthermore, these assets were not FDIC-insured, meaning the money could evaporate; if Prudential fell apart, families would have no recourse. As of June 2010, Prudential held $662m of survivors' money in its corporate account. It earned 4.2% in 2009; the company has paid survivors holding alliance accounts 0.5% in 2010. Five family members filed a federal fraud lawsuit last month claiming the insurer has earned as much as $500m by inappropriately retaining funds due to families. As noted in the Boston Globe, Bob DeFillippo, Prudential spokesman, declined to comment on the lawsuit, but he defended the alliance accounts, noting that they were supposed to allow people time to grieve. It was because these accounts require ready access to the money, DeFillipo explained, that the investment was short-term and the interest rate lower.
Whatever the outcome of that case, it will do little to dispel the impression that the insurance company and the VA have done deals over the dead bodies of men and women in uniform in order to make a quick and easy buck… or millions.
Our veterans, who have served their country so heroically, don't need yellow ribbons; they need less red tape and more transparency. Wasn't it enough that they gave their lives for their country, were rendered so mentally ill that some have taken their own lives? Or do their wives and mothers also have to be exploited in their darkest hour in order to boost insurance stock portfolios?
"Bleeding-heart liberals" often bear the brunt of criticism when proposing that the government take financial responsibility for veterans' healthcare. Given how reprehensibly our veterans are being mistreated, shouldn't all our hearts be bleeding?